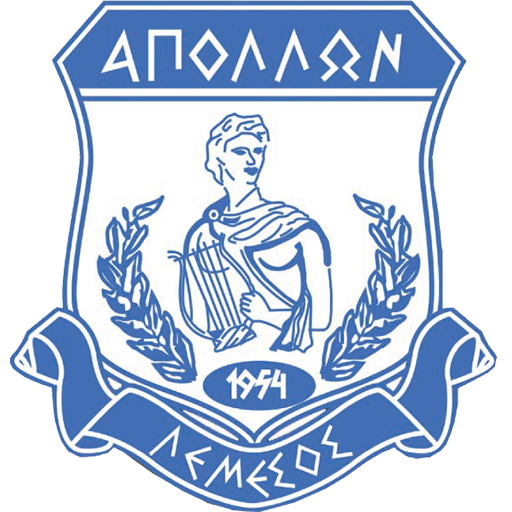 Club Information
Founded:

14th April 1954

Ground:

Tsireio Stadium

President:

Nicos Kirzis

Coach:

Alexander Zorniger

Location:

Limassol, Cyprus
Apollon FC History
At the end of 1953, a team of young men placed as a dream and objective, the foundation of an association with national and athletic aims based on promoting the education and social skills of its young members. On April 14th 1954, the general assembly of these members with leader Mr Christakis Pavlides proposes the foundation of an athletic association called "APOLLON LIMASSOL".
The assembly approved the proposal and thus from that date "APOLLON was born". The first administrative council of the team included: Charalambos Lymbourides (Secretary), Andreas Psyllides (Cashier), Antonakis Fourlas (Adviser), Melis Charalampous (Adviser), Andreas Theoharous (Adviser) Andreas Aggelopoulos (Adviser) and Kostas Panayiotou (Adviser).
The first football team was created under the directives of Antonakis Fourlas, playing against district teams. This had a result of it becoming continuously more expensive to run and thus the registration of new members was increased with fast rhythms. For this reason it was decided to send a letter to the C.F.A (Cyprus Football Association) on March 23rd 1955 for the integration of Apollon into the association. On 16 October 1955, the Cypriot Football Association (C.F.A) included in its orders Apollon in the 2nd division.
In its first year, Apollon had 8 defeats in 8 matches in the second division. Just before the next season (1956–57), Apollon won the regional group in the second division and subsequently the play-offs and then was promoted to the first division.
This took place in 1957 and ever since Apollon has been competing in the first division. Through his history, Apollon won three Championships (1991, 1994, 2006), nine Cups (1966, 1967, 1986, 1992, 2001, 2010, 2013, 2016, 2017), three Super Cup (2006, 2016, 2017) and also had some very successful participations in European competitions, winning several important games and at the same time, the respect of many European football clubs.
CLUB PRESIDENTS HISTORY
| President Name | Years |
| --- | --- |
| XENOFON CHARALAMBOUS | 2020 - |
| MARINOS EFSTATHIOU | 2014 - 2019 |
| GIORGOS PAVLIDES | 2007 - 2013 |
| THEODOROS ANTONIOU | 2005 - 2007 |
| KAKOS POTAMITIS | 2001 - 2005 |
| GIORGOS PAPAS | 1999 - 2001 |
| DIMIS KIRZIS | 1991 - 1999 |
| PAMPOS GEORGIADES | 1987 - 1991 |
| GLAFKOS PSILLAKIS | 1985 - 1987 |
| ANTONIS HATZIPAVLOU | 1977 - 1985 |
| AIMILIOS MICHAELIDES | 1973 - 1977 |
| YAKINTHOS EYGENIOU | 1972 - 1973 |
| TAKIS SOLOMONIDES | 1971 - 1972 |
| ANDREAS PSILLIDES | 1970 - 1971 |
| THEODOROS PAPAS | 1966 - 1970 |
| AIMILIOS MICHAELIDES | 1965 - 1966 |
| DEMETRIS POLIDORIDES | 1963 - 1965 |
| LOUKAS CHARALAMBOUS | 1958 - 1963 |
| COSTAS CHARALAMBOUS | 1956 - 1958 |
| PAMBOS LIMPOURIDES | 1954 - 1956 |
COMPANY PRESIDENTS HISTORY
| President Name | Years |
| --- | --- |
| NICOS KIRZIS | 2012 - |
| PAVLOS ARISTODEMOU | 2011 - 2012 |
| GIORGOS PAVLIDES | 2010 - 2011 |
| FRIXOS SAVVIDES | 2009 - 2010 |
| THEODOROS ANTONIOU | 2008 - 2009 |
| FRIXOS SAVVIDES | 2007 - 2009 |
| BOARD OF DIRECTORS | 2005 - 2007 |
| FILIOS DROUSIOTIS | 2004 - 2005 |
| GIORGOS PAPAS | 2003 - 2004 |
| SOFOKLIS SOFOKLEOUS | 2002 - 2003 |
| LAMBROS CHRISTOFI | 2001 - 2002 |
| GIORGOS PAPAS | 2000 - 2001 |
| PAMPOS GEORGIADES | 1999 - 2000 |
| FRIXOS SAVVIDES | 1999 - 1999 |
| DIMIS KIRZIS | 1998 - 1999 |