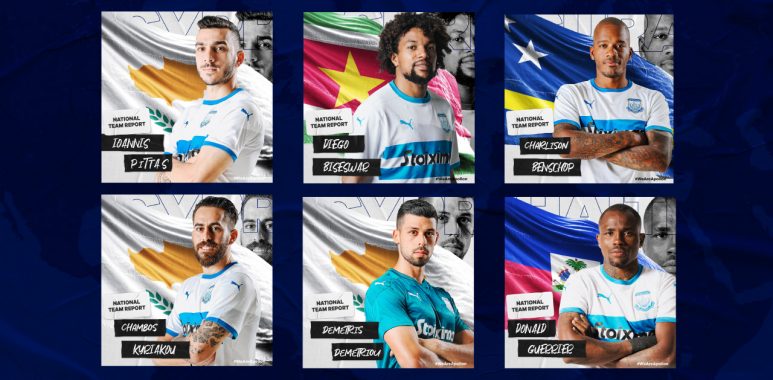 International round up report (vid)
The international obligations of our footballers for March have been completed.
A total of seven Apollon players have been with the national teams of their countries in the last ten days, having in conclusion two goals, two assists and one clean sheet, while at team level they counted four wins, one draw and one defeat.
Four football players were included in the call up for the Cyprus Men's National Team with Kyriakou and Pittas counting from three appearances. The striker scored his first goal with the representative team of Cyprus in the important victory over Slovenia.
Dimitriou played in two games but his misfortune "knocked" the door after he was injured in the away match against Croatia. In the first match against Slovakia, Dimitriou kept clean sheet. Fanos Katelaris remained on the bench being a solution in case he needed to play.
His return to the National Curacao was accompanied by a goal Charlison Bencshop, who scored the winning and decisive goal in the match against Cuba. This was the first goal of our striker with his representative team.
Diego Biseswar made his debut for National Suriname, scoring two goals in his country's 6-0 win over Aruba.
Finally, Donald Guerrier played the entire 90th minute with the Haitian National Team against Belize, prevailing 2-0. The match against Saint Lucia was postponed due to the many positive cases of coronavirus in the ranks of the opposing team.
Watch in the video below the maiden goals of Pitta and Bencshop with their national team and the assists of Biseswar in his official debut with the National Suriname: