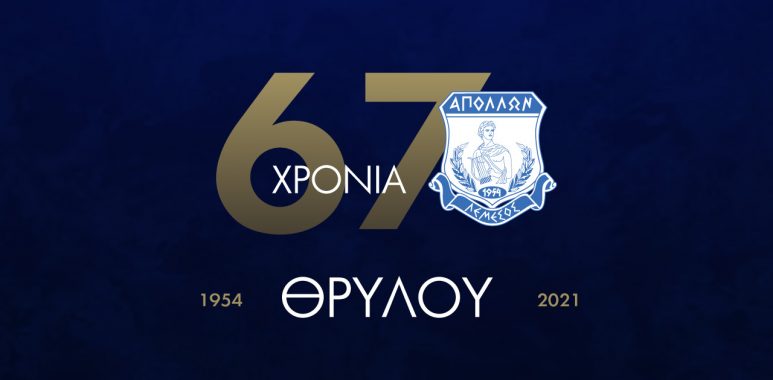 Apollon FC celebrates 67th anniversary
Apollon FC was founded on this day, 67 years ago. 14/4/1954 was a memorable day for Apollon club.
A club, an idea, a Legend, which since its foundation in 1954 and over the years has grown, grown, offered, offers and will continue to offer both in the socio-political events of Cyprus and in the sport of the island us.
Our Legend continues to grow every day. Both in terms of age and as a sports entity.
67 years after its first day and is still struggling with the same zeal, with more passion and even greater pride.
A club from the bowels of which emerged great figures of sports, great personalities of the political scene, but also fighters – heroes, many of whom were tortured, while many others were sacrificed for the ideals of the homeland. After all, all these years, thousands of friends of the club took care to wave high the blue and white flag of the team, which bears the colors of the motherland of Greece and to pass from generation to generation the idea called APOLLO.
Because, Apollon Limassol is above persons and situations. Because, Apollon was created to promote the National and Christian ideals, to actively participate and play a leading role in Cypriot sports, but also to have a strong, as well as independent and in some cases, voice in the city of Limassol, in Cyprus and in general where the Greek element strongly dominates.
A voice that becomes stronger and stronger year by year, since the proud world of Apollon, reverently and without interference follows in the footsteps of his ancestors, remaining faithful to their instructions and ideals, while respecting the history of his favorite club .
Of this world that is growing and multiplying and that corresponds to a large and respectable percentage of the population of our island.
Read more for Apollon's history in below link: