THE NINTH CUP ON APOEL IN GSP
The effort to maintain the achievements in the institution of the cup started on 1/2/2017 with a 2-0 home victory over AEZ for the Second Phase of the tournament while a week later with a new one with the same score, Apollon sealed Qualifying for the "8" phase of the cup.
In the next phase, Omonia is the opponent, where in the first match at the GSP stadium (15/2/2017) we took a slight qualifying lead with a 2-2 draw. The rematch of February 22 was not completed after in 82 'the match was stopped due to the fault of the opponent's fans, while Apollon was leading 3-1. For the formal part, the fate of the match was decided by the Sports Judge, although it was clear that the Cypriot cup winners were the team that would continue in the semifinals of the second class of the tournament.
In the semifinals of our institution, Anorthosis was waiting for us, where on April 26, Apollon was stormy,… dusting and crushing the opponent, crushing it 6-0 at Tsirio Stadium. The replay of May 3 was of a procedural nature where for history our team lost 1-0 to "Antonis Papadopoulos" and qualified for the grand final.
This is the 75th final of the Coca-Cola Cup, which took place on May 24, 2017 against APOEL. Our team is the winner with a goal by Vinicius in the 78th minute, thus winning the trophy for the second consecutive year. In the 61st minute, Da Silva was sent off with a second yellow card and Apollon finished the match with ten players.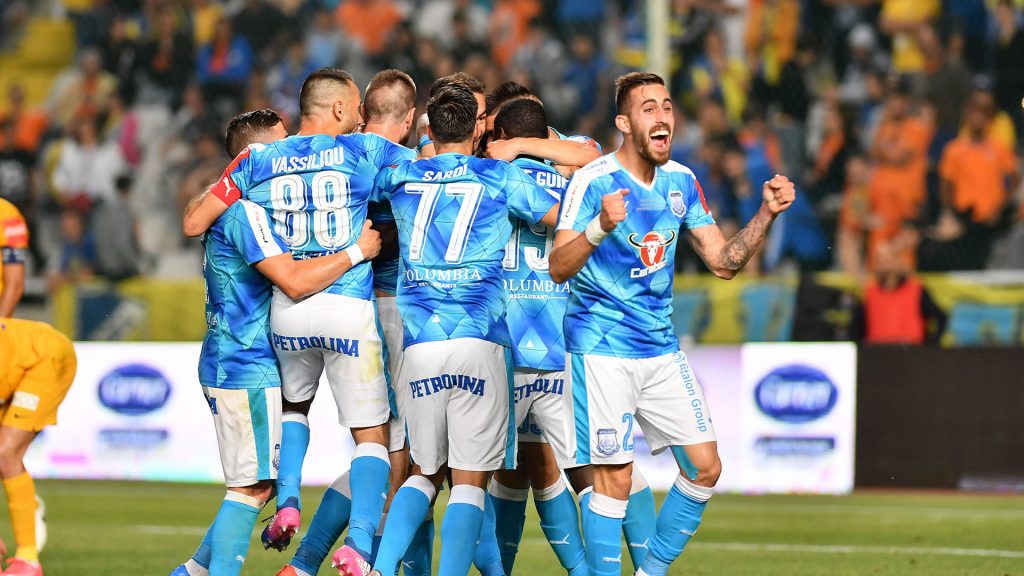 Apollon played with Vale, Sacheti, Da Silva, Joao Pedro (90 'Sergio), Ch. Kyriakou, Papoulis (63' Guie), Vinicius, Sardinero, Roberge, Vassiliou, Maglica.
The next day (May 25) the arrange party for the cup winner Apollon, with the leading members of the team in an open bus crossing by Limassol. The procession ended in front of the Limassol District Administration, with people celebrating day and night and celebrating the 9th Cup of the team's history.